8th March 1958 - Kinder Downfall & Reservoir
Despite a poor weather forecast, a large number (38) of children turned out to attempt a route from Hayfield, over Mount Famine and South Head to Brown Knoll, passing the Edale Track near Jacob's Ladder, over Kinder Low to the Downfall, thence down to Kinder Reservoir, over Middle Moor to Carr Meadow, Rowarth and Mellor.
The walk started well in fine weather but with much snow lying on the higher ground. Between South Head and Jacob's Ladder, Pauline Wilkinson became ill and was taken home by the shortest route by Mrs Mason and Monica Wild. The remainder of the party continued in the sole care of Mr Mason.
Snow commenced at about midday and a stop was made in the snow, on the Edale Track, for lunch. The weather was then very cold and windy, but it was decided to press on over Kinder Scout to the Downfall after lunch.
Many of the party were very slow on this wild desolate stretch and, owing to the poor visibility in many frequent snow storms, several stops had to be made to get the party together. After one such stop in filthy weather, a decision was made to get to lower ground, out of the cloud, at the first opportunity.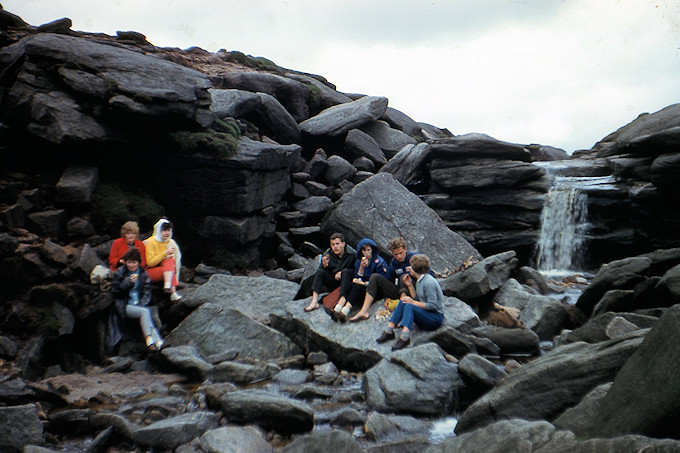 WW1960-007 At Kinder Downfall (from another walk)
A suitable place was soon found - not too steep, but necessitating fairly careful treading on stepped ground. There was snow on the ground but in small patches only. This contributed no danger.
Having made (as it seemed) sure that all was going smoothly Mr Mason descended the slope himself and was looking ahead planning the next move when he was informed that "one of the girls had fallen all the way down the hill". Turning, he saw Brenda Wild just getting up - apparently not badly hurt.
Just at this time a fierce snow squall arose, driving the snow viciously as an effort was made to render first aid on a nastily cut leg. In addition to these cuts, Brenda had sustained two strained ankles, but was able to limp onwards half supported by Mr Mason and Margaret Andrews - one on each side.
Owing to this mishap, the shortest possible route was taken to the engineer's house at Kinder reservoir (a mountain rescue centre) where further aid was given and an ambulance called. Brenda perked up considerably under the influence of hot tea, a warm fire and more expert attention.
From the reservoir most of the party continued by the shortest route to Hayfield where they were overtaken by Mr Mason (who had a lift in the ambulance) and escorted, by train, back to Marple.
Eight more hardly spirits, under the guidance of Tony Mason, continued via Carr Meadow and Rowarth to Mellor, on foot. At Mellor most of them were picked up by Mr Mason and motored the last mile or two to Marple.