29th May 1958 - Kinder, William Clough & Snake Pass
A ramble was arranged only two days before the start of the school holiday at the request of the boys and girls themselves. Twenty six lads and lasses gathered at Marple Station to catch the 9.26am train to Hayfield. Miss Wood, Gwen Williams and another friend, in addition to Mr Mason, arrived to shepherd the flock.
This walk, in addition to the normal pleasure, was expected to give final training to those members of the holiday group who had not attended many of the earlier walks, and also supplied an opportunity for 'wearing in' new walking boots or shoes.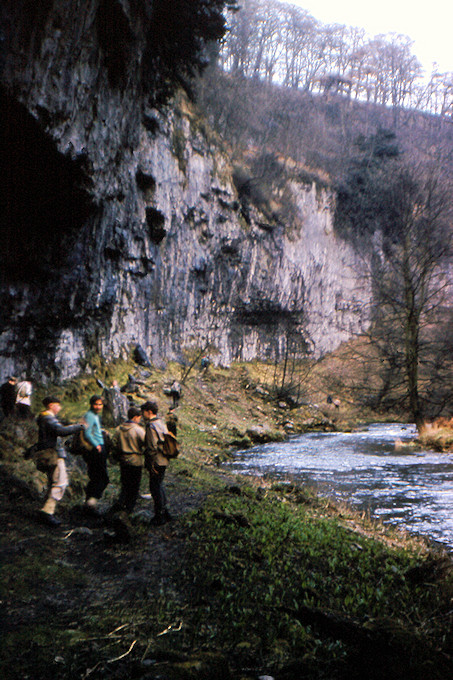 WW1960-006 Cheedale (from another walk)
The attendance was rather less than usual as many children had already prepared all their gear and clothing for the departure for Lakeland on Saturday.
A start was made from Hayfield across the moors to skirt the NW bank of Kinder Reservoir. Moderate speed was then made on the scramble up William Clough, and a short stop was made near the head in order to 'get our breath back'. The journey was then continued down Ashop Clough for a lunch stop a hundred yards or so before joining the Snake Pass - this was at 1 o'clock. A re-start was made along the 1¾ miles of the Snake to Doctor's Gate at about 1.45pm.
Some motoring friends of Mr Mason's and Mrs Mason intercepted the party on this stretch of metalled road, and it seemed as though they envied the freedom of action of the walkers, as compared with their own activity limited by the extent of the road system.
It was noticed on this road stretch that several members of the group were flagging - or loitering - causing some delay to the rest of the party at Doctor's Gate. When the group was again gathered the old Roman Track was followed down Doctor's Gate and Shelf Brook to Glossop. After some delay a bus was boarded and the short leg to Marple made by mechanical transport.
The day had provided a pleasant and interesting ramble with no untoward incident or great excitement - that is not to imply that the outing was dull or tame, but simply that there were no highlights of great interest or adventure.