Sunday 19th May 1959 - Manifold Valley Protest Meeting
A large party of boys and girls of the Willows School gathered from Marple, Newtown and Disley areas to board the special train at New Mills (Newtown) Station. With the party were Mr and Mrs Mason and Mr and Mrs Baker - the youngsters totalled 44.
The special train was about ¾hr late at New Mills and did not arrive at Alsop-en-le-Dale until 12.30, leaving very little time to reach the Manifold Valley. The group gathered itself together at the station (Alsop) and followed the road to Dove Dale - then leaving the direct route for Whetton Mill, moved about 1 mile along Dove Dale to the Dove Hole Caves, where a stop was made for lunch.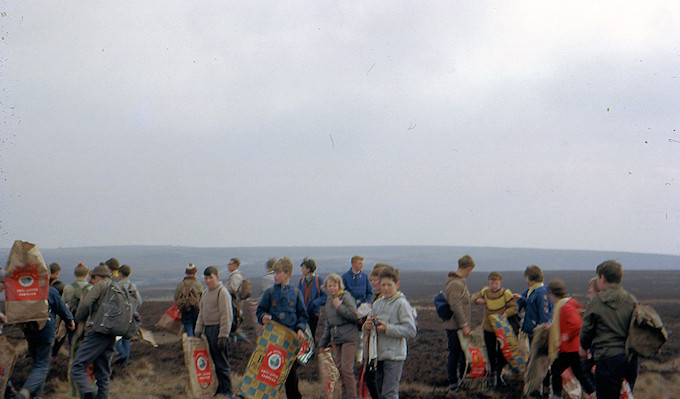 WW1963-009 Caption required
During the lunch stop it was decided, owing to shortage of time, to forsake the original plan of walking to Manifold via the Thorpe Cloud end of Dove Dale, and instead to leave Dove Dale just below Dove Holes and strike across the hills and fields to Whetton.
Owing to a misunderstanding of the arrangements the head of the party, under Mr Baker, clamoured directly up the steep slope after crossing the log bridge. Mr Mason, having delayed to watch the stragglers, arrived at the bridge too late to correct this mistake, but as the main part of the group was with Mr Baker, there was no cause for concern. It is confidently expected that the two parts would meet again after a few miles - this did not happen.
The smaller party with Mr and Mrs Mason followed the planned r............
(and here the account stops, literally mid-word. No further written reports of either the Rambling Club walks or holidays were made until October 1961)