History of Mellor Open Gardens
There has been strong active support for Cancer Research UK and for its predecessor, Imperial Cancer Research Fund, in the Mellor area for many years. Indeed, the first three Mellor Open Gardens in 1992, 1995 and 2000 were organised for the charity by a small group of residents known as Mellor Friends of Imperial Cancer Research Fund.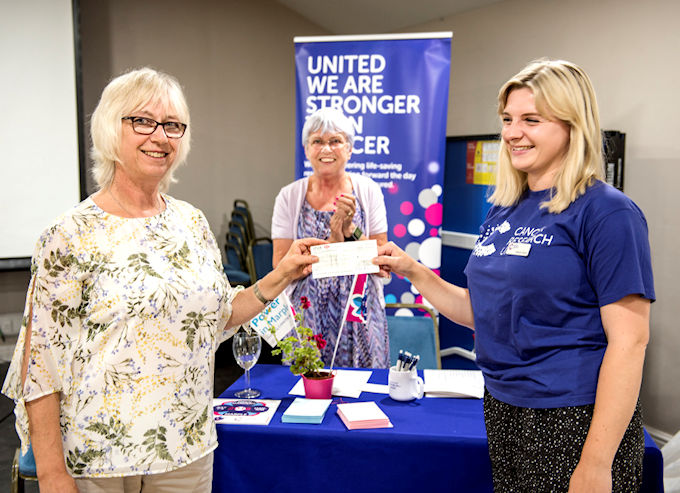 An unexpected development then occurred with a connection to the RHS Flower Show at Tatton, which resulted in the creation of a small charity garden in 2001. Called The Mellor Surprise Open Garden, it was based on the topography of Mellor and the ethos of the open gardens event. Thereafter, the charities were merged to form Cancer Research UK. Five further gardens, three of them large show gardens, have since been exhibited for the RHS Flower Show at Tatton in order to help to raise the profile of Cancer Research UK in the north-west, as well as raising funds for the charity. Winning gold, bronze, silver and silver-gilt medals respectively, these were The Garden Quartet in 2003 (which also won best-in-show), The Opera Fan Garden in 2005, The Cancer Research UK Donations Garden in 2007, Thyme and Money in 2009 and The Shine Garden in 2011.
Mellor Open Gardens 2016
Once again, Mellor residents demonstrated their enthusiasm for this cherished community event, which was the most successful since it started in 1992. Their generosity and willingness to volunteer to bake cakes, serve refreshments and manage car parking areas was invaluable and much appreciated by more than 1,200 visitors.
In the days leading up to Open Gardens Day, 'Mogpotpeople' accompanied by flags kindly provided by Julian Wadden, Estate Agents, appeared in front gardens and at Mellor Primary School, and helped to focus attention upon the Big Day.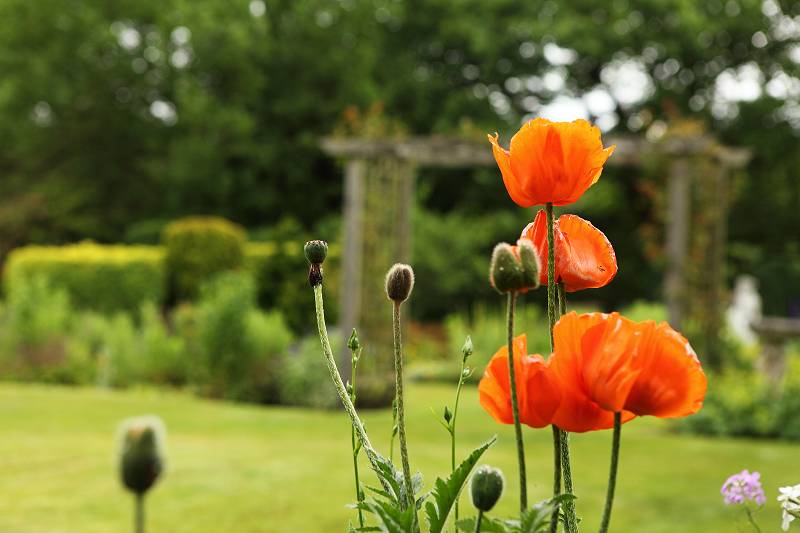 A warm, sunny morning brought visitors from all over Stockport, and unexpectedly from further afield including Lincoln, Wakefield and Northampton – such is the influence of the Internet! In addition to the 20 colourful and varied gardens on display, duck races in Mill Brow, a 'Find the Well' competition in one garden and Tony Husband's famous cartoons added to the attractions. Four minibuses running constantly between Marple Bridge, Mill Brow, Moor End and the Parish Centre helped to keep visitors moving between all the gardens.
As a result, Cancer Research UK and Friends of Mellor Parish Centre will share the profit of just over £16,000 – the wonderful result of all the hard work by garden owners and volunteers.
Mellor Open Gardens 2012
The sixth Mellor Open Gardens Day took place on 17th June 2012, 20 years after the event was first held. 22 garden owners had battled to prepare their gardens through the wettest April to June ever recorded, but were rewarded with a bright afternoon, 1000 visitors and the buzz of a vibrant village festival.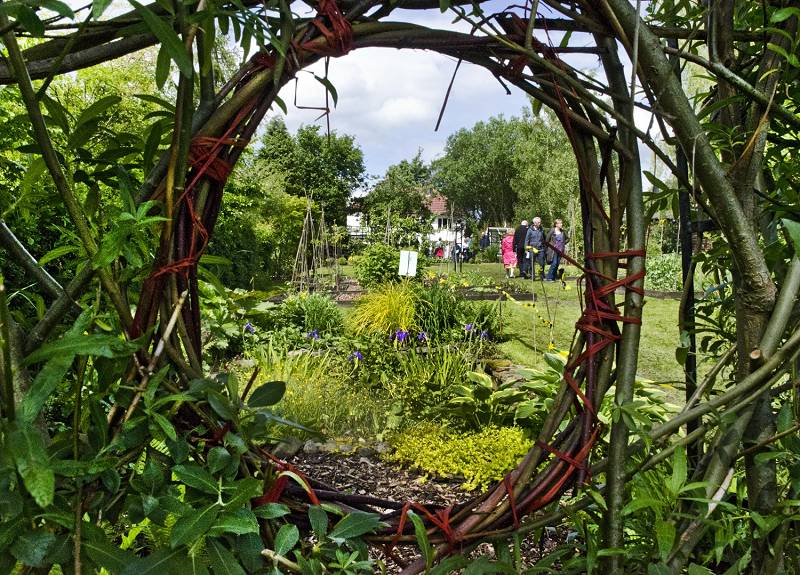 Mellor Open Gardens 2008
The village of Mellor in Stockport enthusiastically shared its lovely views, its varied gardens and its renowned hospitality when it staged the fifth Mellor Open Gardens on Sunday 25th May 2008. This community based event involved 16 individual private gardens opening their gates to the public to raise money for two charities, one national and one local.
Mellor Open Gardens 2004
Some of the gardens that featured in the 2004 event are described below:
Although at a relatively high altitude, this medium-sized garden is surprisingly sheltered, having evergreens on three sides. It has recently undergone some re-landscaping in the ongoing fight to counter the invasion of moss, a bitter enemy given aid and succour by its allies, rain and the Mellor slope.
A climb of 22 steps passes a large rockery with mixed plantings of heather, conifers and shrubs and leads to a long south-facing, mixed border and island beds set in a grass bank.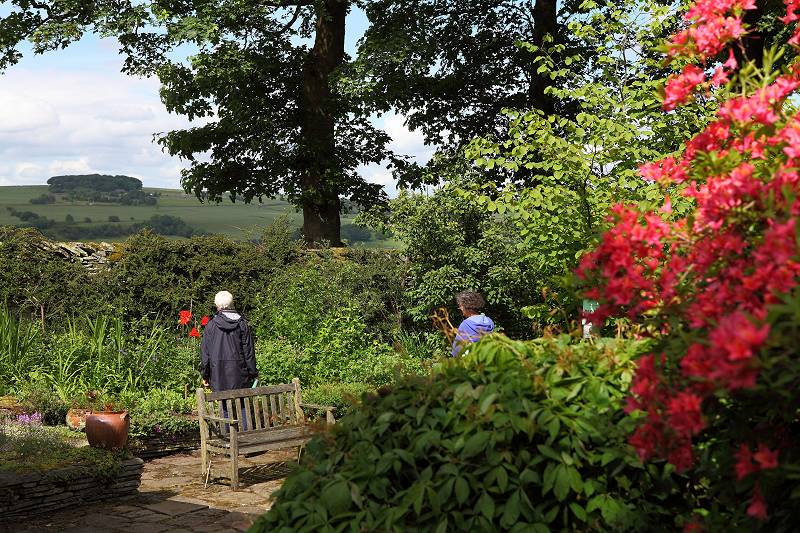 The garden includes many fine shrubs, with a Pieris formosa 'Forestii' and a Viburnum plicatum ' mariesii' being particularly noteworthy at the time of the open garden event.
This mature garden, now approaching 2 acres in size, has a fine selection of specimen trees and a wide variety of shrubs in addition to extensive, densely-planted borders and some drystone walling.
The layout is informal on a south-facing slope with lawns that lead down to an area of woodland.
There is a new glasshouse and nursery beds along with a vegetable plot and much else to interest the practical gardener.
Other garden features include a games lawn, two ponds, a collection of clipped conifers and a woodland walk.
A resident saxophone quartet played on the terrace for a time during the day.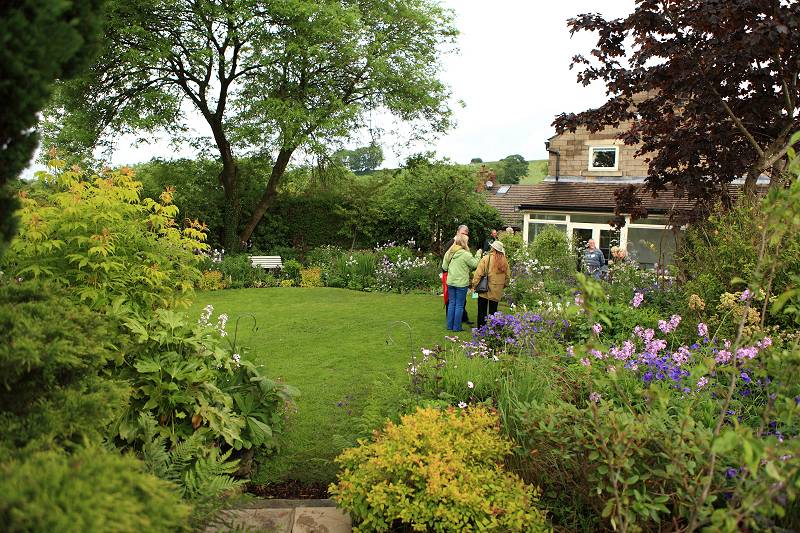 Taking account of ground conditions and prevailing winds, the present owners have transformed an overgrown meadow into shrubberies, a collection of ornamental trees and an apple and soft fruit orchard which have now reached maturity.
The emphasis has been given to a flowering informal design with an accent on spring and autumn colour in the choice of planting.
Recent additions include a collection of rhododendrons and ferns, from where there are glimpses of Slack Brook and the wooded valley beyond; a Parrotia persica'Fastigiata' ( Persian Ironwood; Salix matsudana 'Tortuosa' ( Dragons Claw Willow ) and Corylus contorta (corkscrew hazel ).
Mellor Open Gardens 2000
On Sunday 2nd of July 2000 the village of Mellor opened 15 of its private gardens for viewing by the general public. This was the third "Open Gardens" event organised by Mellor Friends of ICRF, the previous two being held in 1992 and 1995. Mellor Friends' is a fund raising group formed in 1988 by a small team of Mellor residents to support their favourite charity, the Imperial Cancer Research Fund. Since then they have raised money with a great variety of events including the open gardens, art exhibitions, concerts, walks and a fashion show. They have raised over £20,000 to support the invaluable work of the ICRF.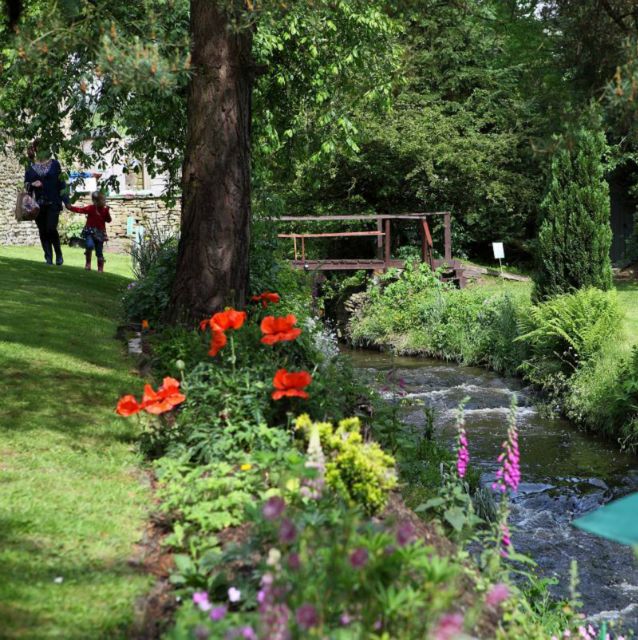 This was our first visit to the "Open Gardens" and we were unprepared for the scale and professionalism of the event. If we had purchased the programme and walking guide in advance, instead of on the day, we would have discovered that around five hours were needed to have a hope of seeing all the gardens, even if we only spent 15 minutes in each. Unfortunately we did not allow enough time for this, a mistake we hope to rectify next time the event is repeated.
The day centered around Mellor School, where refreshments included morning coffee, light lunches and afternoon tea with homemade cakes. There were also flower arrangement displays by local clubs and florists, miniature gardens created by local school children and an exhibition of garden ceramics by local artist Sue Crossfield. In the afternoon musical entertainment was provided by Thornsett Band, a youth band formed in 1995 and conducted by Claire Pownall.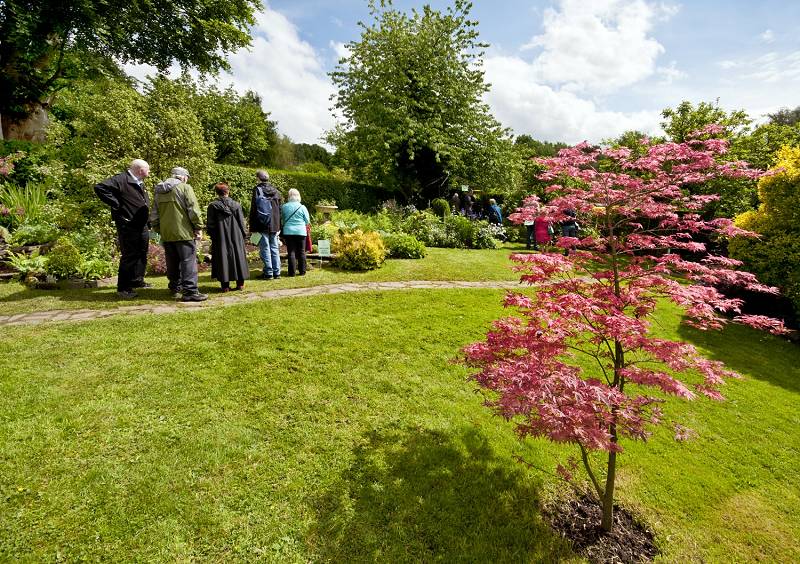 The event was extremely well supported with numerous visitors who came prepared to combat whatever our great British weather had to offer. In the end the weather was kind, with early rain showers being fairly light, followed by brilliant sunshine later in the afternoon. During our visit we managed to take in just over half of the gardens on display, these being numbers 8, 9, 10, 11, 13, 14, 15 and finally number 2, our firm favourite of those we saw. Follow the links for photographs taken during the day. They often do not do justice to these excellent examples of the English garden but hopefully give some idea of the variety and high standards on show.
Thanks to everyone involved in the organisation of Mellor "Open Gardens" for providing an excellent day out in support of a good cause. Apologies to the owners of the gardens we did not manage to visit for not being able to include pictures of yours here, however if anyone would like to provide some they can soon be added.