Open Gardens in Marple: Other Attractions

Saturday 8th & Sunday 9th July 2023
Locations and organisations supporting Open Gardens in Marple with additional attractions.
Click the individual Map Links to find each location, or the Main Map to see them all.
Blacksmith Demonstrations
Marple Recreation Ground SK6 7BX
Map Link

BD: Metal Artist Wayne Chaisty brings back the nostalgia and magic of the arts and crafts of the past
Wayne got his first live Blacksmith demonstration on Marple Rec under his belt with no fuss and no drama in April 2023. The feedback he received on the day was all very positive and he hopes to turn this into a regular event, giving demonstrations himself and with other guest artists and blacksmiths.
Over the weekend ...
Open Gardens in Marple organisers saw a great opportunity for Wayne to support their event over the two days and his Blacksmith Demonstrations will be sited near to the old Toilet Block on the Recreation Ground.
Ironwood Metal Art
Although they may not realise it, most local people will know Wayne's work. He has collaborated with The Marple Website and Friends of Marple Memorial Park for many years and is responsible for creating the Coronation Bench in Marple Memorial Park (2005), the Nativity Sculptures installed on Market Street at Christmas (since 2006), Lock 17 on Oldknow Gardens (2007), the Diamond Jubilee Flowerbed in front of Marple Library (2011) and refurbishment of the Iron Bridge Viewing Platform in Brabyns Park (2021).
Community Orchard
Marple Recreation Ground SK6 7BX
Map Link

CO: Created and cared for by Climate Action Marple volunteers to provide free produce for the local community
The Community Orchard on Arkwright Road was planted in March 2017 with the Mayor planting the first tree. Stockport Council were keen to have community orchards throughout the Borough and offered the land. MESS members raised the money to buy the trees by encouraging donations from local people.
There are 85 trees of various types: pears, apples, plums, cherries, damsons, nuts.
A group of volunteers help to care for the orchard weeding around the trees and pruning at the appropriate times. Apples, pears in the early Spring and plums and cherries in May, June July or August (months without the letter 'r')
As soon as Lockdown 2 in ended in 2021 a group of 16 volunteers met at the Orchard on a beautiful sunny Saturday to catch up with delayed tasks. All the apple and pear trees were pruned and 8 new trees were planted to replace those that had unfortunately died.
In 2023 a further eight were bought and planted to replace those which did not survive the drought of summer 2022.
Over the weekend ...
The orchard will have people on hand to talk about the history and reasons for the orchard with posters explaining the importance of trees, why we planted fruit trees and all the varieties we planted. There will be a "Treasure hunt" for the children and there is lots of room for them to run around and play. We will also have some of our "How to.." leaflets.
Climate Action Marple (CAM) started in 2009 originally called MESS, trying to raise awareness of climate change issues and find local solutions to some of the resulting problems. Initially we promoted carbon reduction measures such as home insulation and solar panels but then after a visit to Incredible Edible in Todmorden, looked to encourage people to grow food, and we built the planters you see in Market street and elsewhere. When Stockport Council wanted to have a community orchard in every ward, we stepped up and raised funds by asking people to sponsor a tree.
GirlGuiding HQ

21 Brickbridge Rd, SK6 7BQ
GH: Providing Cream Teas and Refreshments between 11am and 4pm on Saturday and Sunday
GirlGuiding Marple will be displaying ther results of their "Grow Your Own Badge" in planters created for them by Marple Men in Sheds.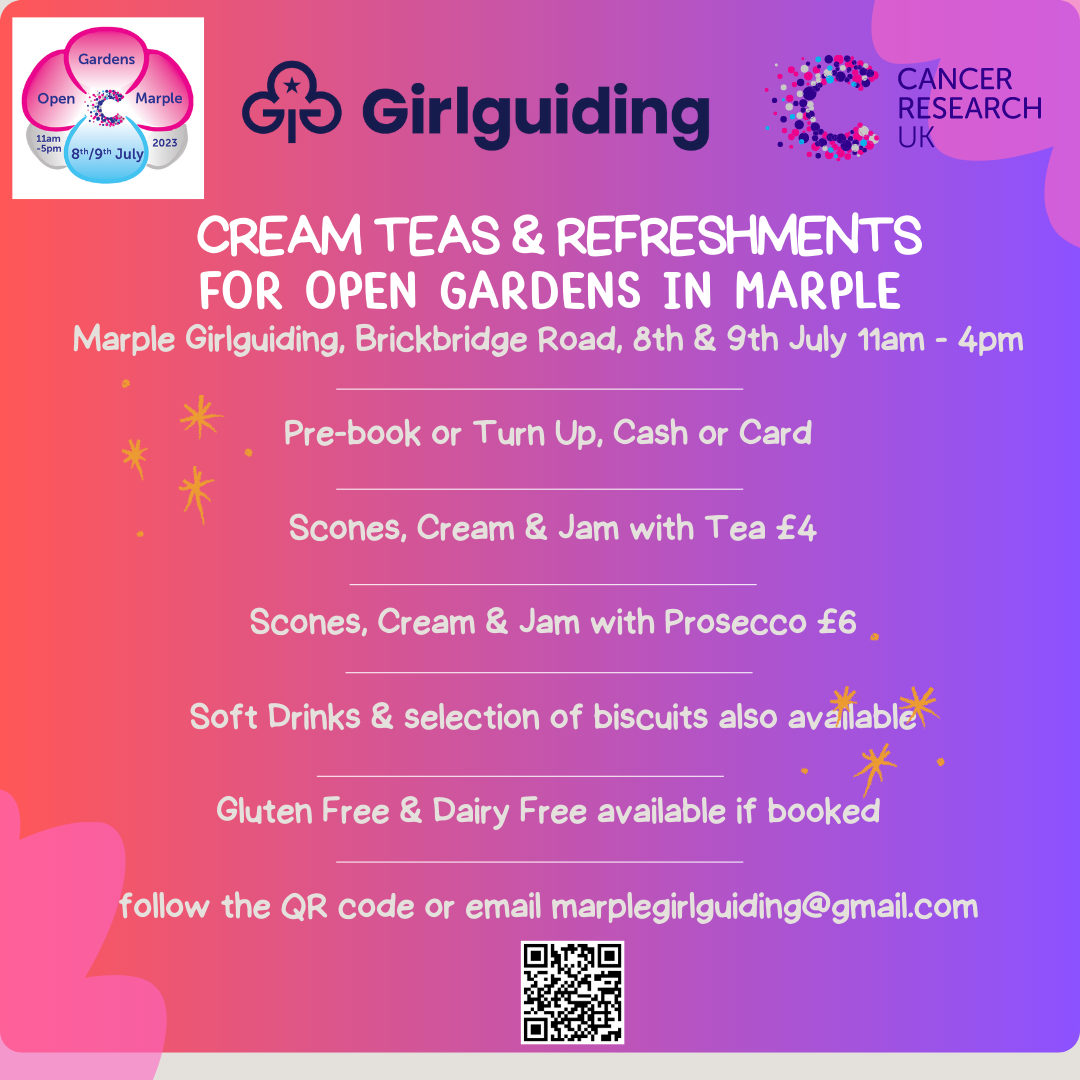 Order via this link, tap the image above or email This email address is being protected from spambots. You need JavaScript enabled to view it..
Marple Memorial Park

Marple Memorial Park, SK6 6BB
Refreshments provided in the park by Coffee Bean Dream

MP: Marple's glorious town centre park with flowerbeds maintained by local volunteers.
The land for Marple Memorial Park was given in Memory of the men of Marple who fell in the Great War 1914 - 1918 and the laying-out was done by Public Subscription. The park was formally opened on 22 July 1922 with a Dedication Ceremony and Historical Pageant attended by thousands.
Friends of Marple Memorial Park began helping to look after the park in 2003.
In 2011 the group learned that the council were planning to grass-over the flowerbeds to save money and stepped-up to save them. Their volunteers now maintain all the fabulous flowerbeds, shrub beds, borders and benches in the park on their own.
The group has also led many successful projects to improve the park's facilities and will be delighted to chat to Open Garden visitors about their activities.
On Saturday and Sunday there will be a stall in the park for ticket sales and information. There are also public toilets in the park.
Sunday 9th July 2pm to 4pm
Werneth Concert Band: Summer Concert in the Park
Werneth Concert Band will be playing a programme of light music between 2pm and 4pm by the War Memorial in the park.

Rose Hill Station


Rose Hill Station, SK6 6HU
Map Link

RH: The station is brightened by gardens and artwork created by Friends of Rose Hill Station volunteers
The garden areas at the station have been created and are maintained by a small group of volunteers, the Friends of Rose Hill Station.
Working since 2011, we have cultivated considerable areas around the car park area and installed planters along the platform. The planting includes a community orchard and a 'help yourself' herb bed. While we use a selection of bedding plants each summer to provide splashes of colour, much of our planting focusses on perennials and shrubs and we have always to keep in mind reducing both the amount of watering and the degree of attention our beds will need. We are not there on a daily basis and we must conserve water as much as we can. We aim for a long season of insect friendly flowering plants.
Over the weekend ...
With support from the Rose Hill Allotments, volunteers from the Friends of Rose Hill Station will be available to greet visitors over the Open Gardens weekend, 8th and 9th July between the period 11am - 5pm each day. They will be reviewing the different parts of the areas on which they have been working over the years along with the further improvements planned.
A plant sale is also planned, for as long as plants are available, and plant expert, Jane Massam, from Angelica Flowers and Gardens, will also be visiting the Station to give a free Garden Advice session on Saturday 8th between 11am – 12noon.
The Scout Hut

Memorial Park Drive, SK6 6BA
SC: Refuge and Information
Open as a place of refuge, housing the raffle prizes and with promotional stands from Climate Action Marple and CRUK.
Click the individual Map Links to find each location, or the Main Map to see them all.