Friends of Marple Memorial Park 50-50 Club Lottery Draw
JOIN FoMMP 50-50 CLUB TODAY AND YOU COULD BE THE NEXT WINNER!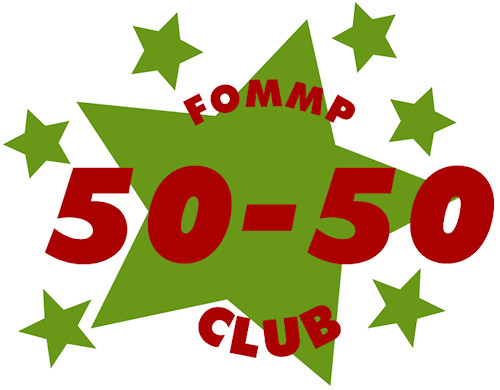 Thank you for your interest in Friends of Marple Memorial Park's 50-50 CLUB – a great way for you to support the volunteers who look after the park whilst having a bit of a flutter!
Subscribe to the 50-50 CLUB for a regular monthly standing order payment of £5 per subscription (or annual payment of £60). 50% of funding received each month is paid out to the winners of the monthly draw and 50% is retained by Friends of Marple Memorial Park to help them carry out their work in the Park.
Here's how it works…
You complete and sign the a subscription form and Standing Order mandate for £5 a month, or preferably you register on-line and set up the payment yourself via your own on-line banking. Alternatively, you can pay £60 annually by Standing Order, BACS Payment or cheque (payable to Friends of Marple Memorial Park).
This buys you one subscription number (FoMMP will allocate this), which enters you into the monthly 50-50 CLUB draw. You may purchase more than one subscription number if you wish.
The draw will take place on the 2nd Monday of each month.
Payments must be received by the last day of the month prior to the draw but it is recommended your monthly Standing Order is set-up to be paid on or around the 15th of each month to give us plenty of time for our administration and checking activities please.
Subscriptions for the first draw must be paid by Monday 30 September 2019 latest and the first winners will be drawn on Monday 14 October.
If you win, a cheque will be posted to your home address and the name of the winner published in the Friends of the Park's meeting minutes, on their web site and on Social Media.
The prize money will be 50% of the total subscriptions received in the month prior to the draw. The remaining 50% will be used by Friends of the Park to fund projects and activities in the park.
There will be 3 prizes each month comprising 1st (50%), 2nd (30%) and 3rd (20%) of the Prize Fund.
Here is a full set of rules for the FoMMP 50-50 CLUB!
Registered with Stockport MBC as a small society lottery.
Registration number 19/01646.
FoMMP 50-50 Club Sign-up Form
Any queries, please email This email address is being protected from spambots. You need JavaScript enabled to view it.
Notes
1. Please use Sort code: 09-01-29 and account number 37673967 to set up your Standing Order from your own on-line bank account and ensure that it is paid on or around the 15th of each month. Please use your own Initial and Surname as the reference so that FoMMP can tell who has paid.
2. Please download and complete the paper registration and mandate form.
3. This sign-up form is hosted by The Marple Website on behalf of Friends of Marple Memorial Park as the FoMMP web site needs to be upgraded and this site is more secure.