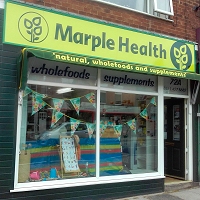 Contact Person: Jean or John
Address: 72A Stockport Road
Area: Marple
Town: Stockport
Postcode: SK6 6AH
Phone: 0161 427 5662
Facebook: Marple Health on Facebook
Marple Health Shop
Marple Health is a long established Family Health Food Shop that was re-invigorated by Jean and John over five years ago, and can help with your healthy eating needs for vegetarians, vegans, and special diets.
We offer Natural and Organic Foods, with a Chilled and Frozen selection. Vitamins & Supplements, Ethical Body-care & Domestic Products, Herbal Remedies, Food Sensitivity Assessments.
Support & advice, (and goodies) in a friendly atmosphere, (and a loyalty scheme which rewards regular customers).
We also have a regular free 'Drop-In' herbalist Clinic.
Give us a try if you haven't already!
Marple Health is a Marple Website Sponsor